In the second episode of My ID Is Gangnam Beauty Kdrama Recap, Kyung Seok picks the perfume Mi Rae dropped. She tells him to keep her old face a secret. But Soo A points out that Mi Rae got her face fixed in the new semester party, so everybody knows it.
My ID Is Gangnam Beauty Kdrama Recap: Episode 2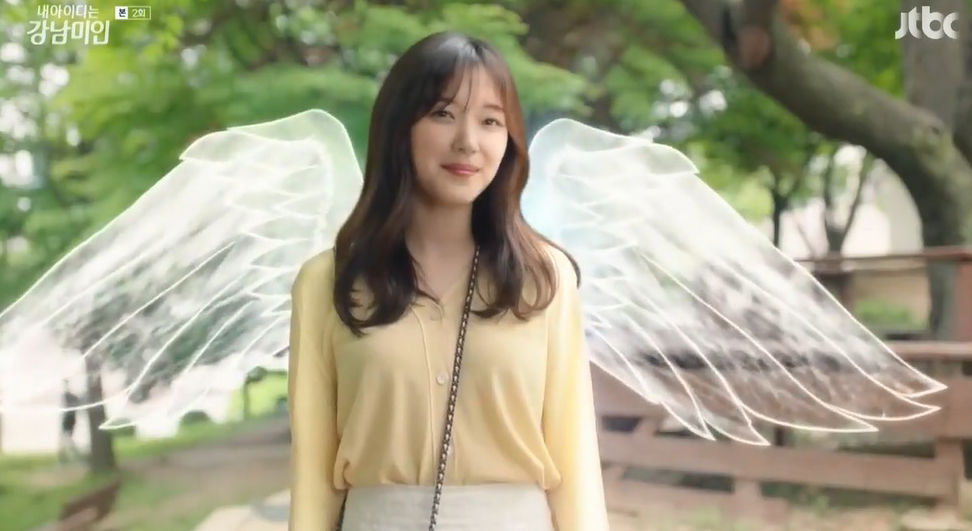 Mi Rae is relieved since Kyung Seok didn't recognize her. She remembers he became photoshoots when he walked and had broken arm in the school, and decides to ignore him.
Mi Rae thinks about what she can say if he asks her again. But Hyun Jung thinks he won't recognize her, and comes up with he is interested in Mi Rae. Mi Rae remembers he smiled at her when she listened music at the bus stop, and thinks he mocked her.
Kyung Seok goes to hospital to see Yoo Jin, Yoo Jin ask Kyung Seok to send his girlfriend Ah Reum since it's too late. But she breakd up with him when she knows he cannot get his father's inheritance. Yoo Jin chases her to outside, and asks her if she dates him because of his inheritance. She says that he lost his credibility, and leaves. Kyung Seok thinks he lost his credibility as well, because he lied to her that his legs broke. Yoo Jin scolds him for joke in a wrong time, Kyung Seok approaches his face, and asks him if he wants him to blow him.
Yoo Jin drives Kyung Seok, and asks if he needs to date more girls. Kyung Seok thinks he is too little to think about it. They have a drink in the bar then, Yoo Jin asks him why he chooses chemistry since his father opposed it. Kyung Seok says he wants do it more when his father is against it. Yoo Jin asks about his mother, Kyung Seok says she is dead.
Hyun Jung's mother is stunned by Mi Rae's new looks, and wants Hyun Jung to try it. But she thinks Mi Rae shouldn't do it behind her father's back after Mi Rae left. The courier hits Kyung Seok's father Sang Won's car, he reports it to police. But Sang Won gets off, and tells him that he doesn't have to take responsible for it, and takes photo together. Kyung Hee thinks it's all set.
Tae Sik shows up at the campus with flowers, Eun Sim calls Mi Rae to ask where she is. Mi Rae worries about Tae Sik, and asks about his blood pressure. But Eun Sim lost his husband, and goes to look for him. Tae Sik runs into his daughter, but didn't recognizes his daughter. He asks Mi Rae where the restaurant is, and recognizes her as his daughter's senior. But Mi Rae confesses that she is his daughter. He is shocked, and leaves. The flowers drop on the ground. He says that he doesn't know her when she chases him.
Kyung Seok takes family photo with Sang Won and Kyung Hee. But the happy moment is interrupted by a call, Sang Won tells the secretary to let him talk about the case later. Kyung Hee grumbles that his brother is too thin. Kyung Seok ignores her words, and sees a boy taking photo with his mom with smile. Mi Rae takes the flowers Tae Sik left to walk Eun Sim. Eun Sim consoles her, and claims she will convince his father. Tae Sik wants to take off Mi Rae's previous photo from his car, but he remembers he asked Mi Rae to take a photo, and hung it in his car. She was unwilling.
Chan Woo saved seats for Mi Rae in the classroom, and boasts he got an A of the lesson in first year. Sung Woon thinks Mi Rae stands out among the girls, but Won Ho thinks Soo A is prettier. Soo A mistakes to think he called her name. Chan Woo claims he can give the study guides to Mi Rae. Jung Boon wants the guides as well. But he says that he has a special relationship with Mi Rae, and mentions the love shot. He tells Jung Boon not to follow them when they have lunch.
Chan Woo mentions his confessing during the lunch, and asks Mi Rae for her decision. She pretends to be chocked by foods, and goes to restroom. Soo A comes to Chan Woo, and asks him if he likes Mi Rae. He says that Mi Rae and Soo A are his cherished junior. She cheers on him, but feels sad. He grasps her hand, and asks her what she means. Ye Na sits in front of Kyung Seok, and asks him why he ignored her texts. He says that he doesn't check it, she comes up with the reason why he doesn't have a girlfriend.
Soo A tells Chan Woo that she got over him, and leaves. Mi Rae thinks about how to explain to Chan Woo that she doesn't have feeling on him, but he tells her that he loves someone else when she returns. Kyung Seok trips Chan Woo when he passes by. Chan Woo lifts a chair, and wants to hit him. He pushes away Mi Rae when she wants to stop Chan Woo, but she drops her perfume. Kyung Seok catches her, so she won't trip. She is startled when he is hugging her waist.
Sung Woon tells Soo A that Chan Woo is master dog, and tells her to be careful. He asks her to get some beer together, Won Ho claims he will go if she joins. Soo A remembers Kyung Seok tripped Chan Woo, and says cute. Won Ho mistakes to think she means him, and is very happy. Chan Woo asks Soo A to go out, and wants to see each other. She asks him about Mi Rae, he says he was nice to her just because they were in same group. But Soo A claims she needs some time to think about it. Won Ho worries about Soo A, and asks her if the master dog hit on her. She laughs, and says he just asked her to tell him when some bad things happen.
Mi Rae sits on the bench, and guesses Chan Woo played her. She remembers Kyung Seok held her back in the cafeteria, and asked her if she was fine. Just then Soo A shows up, and asks her if she likes Chan Woo. Mi Rae is decisive denying. Soo A stares at her with mocking, and grasps her hand. She says that Mi Rae is her friend, Mi Rae thinks Soo A is an angel.
Woo Young announces that he will split people into groups. Mi Rae, Kyung Seok and Soo A are arranged into same group. Kyung Seok volunteers to be team leader. Woo Young's friend says that Soo A is pretty. Woo Young agrees, but stares at Mi Rae's back. Soo A says that she likes cider when Kyung Seok stands beside vending machine. A guy passes by, and thinks they are couple. She is happy, but fears Kyung Seok hates it. The guy teases that nobody will hate to stay with her.
Soo A asks Kyung Seok to buy her drink, but he tells her to buy it herself. She laughs to avoid the awkward, and says that she was just kidding. He gives the drink to Soo A when Mi Rea passes by, and asks to talk. Jung Boon thinks Mi Rae has secret with him, but she denies.
Kyung Seok gives the perfume to Mi Rae, and says she left in the cafeteria. He asks her if she really is not Kang Mi Rae from Jaryong Middle School, and mentions the bus stop and Pomelo. She asks him to keep her old face a secret. Just then Yoo Jin shows up, and calls him. She remembers she yelled at him when he asked her if she was wearing perfume, and thinks she is doomed. But she is curious why he remembered her perfume's name.
Yoo Jin takes Kyung Seok to his bar, and asks him to help him hang the banner. He asks him if the girl hit on him. Kyung Seok remembers Mi Rae asked him to keep it a secret, and thinks she is stupid. Yoo Jin thinks Kyung Seok means him when he just broke a balloon, and thinks he isn't nice.
Mi Rae asks Hyun Jung if she needs to skip the new semester party, Hyun Jung tells her to avoid people. She thinks it will be complicated when Hyun Jung offers to get Kyung Seok to their side, and says that Soo A is on her side. Yoo Eun and Jung Boon think Kyung Seok is interested in Mi Rae, otherwise he could give the perfume in front of them. But Mi Rae denies seriously.
Jung Boon falls for Yoo Jin when he gets beer for her. Mi Rae fails to play image game, so she has to drink two glasses of wine. Kyung Seok sees she drank too much, and asks her to give her wine to her. Jung Boon whispers to Yoo Eun that there must be something between them. Soo A fails in the image game as well, and wishes Kyung Seok can drink it for her. But Won Ho drinks up her wine, and confesses his love. But she rejects him politely.
Sung Woon scolds Won Ho at the bus stop, and thinks he should prepare flowers before confessing. But Won Ho rejected him because of Kyung Seok. Soo A asks Mi Rae if she got her face fixed in the party, and makes her embarrassed. Kyung Seok scolds Soo A, and thinks her behavior is cheap. She cries, so everybody blames him. Mi Rae blames him as well, he asks her if she is stupid.
Won Ho calls Kyung Seok outside, and asks to talk. Mi Rae goes to restroom to see Soo A, Soo A feels sorry for her clueless. Won Ho gets wine for Kyung Seok, and claims the loser will give up Soo Ah. Chan Woo meets Soo A outside, and asks her if she is going to date him. But she says that they cannot work out because of Mi Rae.
Won Ho drinks up the wine, and asks Kyung Seok to give up Soo A since he didn't drink. But Kyung Seok thinks he was rejected because he is gross. Won Ho loses his temper, and warns to kill him if he plays with her. But he trips because of being drunk. Chan Woo asks Mi Rae to tell Soo A that she doesn't like him, but she refuses it. He warns to hit her, and calls her plastic monster. She beats him down with her bag, and yells, "What did I do wrong?"
Kyung Seok runs into Mi Rae at street, when he supports drunk Won Ho with Sung Woon.